Located 10 minutes from Kings Cross St Pancras International and a short walk from Angel tube station was the venue for the London Art Fair.
Creating, displaying, and curating art encourages my creative thinking and provides me with a sense of accomplishment. Through sketching, doodling, and painting I have always found peace.
Art is a passion of mine and applying this passion to interior design supports expression throughout my designs. Encouraging my clients, I consider their artwork and help with potential art purchases at the very early stages of my designs.
The day was packed with original masterpieces from Miro to Picasso and less well-known artists creating contemporary, political, photographic, sculptures, and many more. A particular favourite of mine 'Street Sweeper' by Peter Laszolo Peri (1899-1967) being lucky enough to own one of his sketches.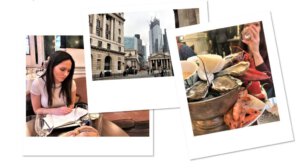 The day was a great success, ending at 'The Ned' a hotel and restaurant across the road from Bank tube station and I even got to spend it with my daughter!