A short drive away from the Angela Cheung Design showroom in Henfield. Ardingly International Antiques & Collectors Fair is one of the top vintage and antiques fairs in England. The picturesque village in West Sussex is a place of outstanding natural beauty and hosts the fair every couple of months.
Grabbing a coffee, I set off to explore the Fair with no specific project brief and an open mind for anything that would fit into or inspire one of my interior design projects.
The fair is the perfect place to explore and pick up one-off pieces. Simplicity has always been the key to my designs.  I believe in design that can be used every day, so the fair with its international flavor was the perfect place to be inspired and find just about anything from rustic everyday objects, unusual furniture to quirky accent pieces.
Embracing décor and design from the traditional to the unusual and inspired by Items which had a story behind their origin making them rare and special. My findings will be customised for each client, weaving the discoveries into their designs, home and spaces.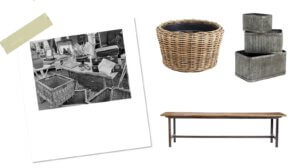 JAPANESE WATER COLOUR BRUSH POT
It was love at first sight but somehow my sensible head convinced me that I didn't need the Japanese water colour brush pot.  The perfect piece to store my brushes, would have sat  alongside art books with pride of place on my bookcase.  After researching these brush pots, I realise that it would have also made a very good investment!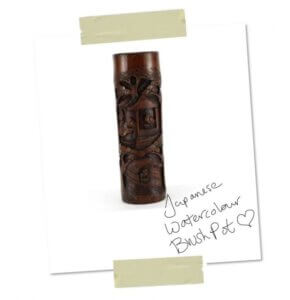 If you decide to visit, the next Ardingly Antiques & Collectors Fair is on: Tuesday 5th March – Wednesday 6th March.
The Ardingly Antiques & Collectors Fair
Let me know how you get on? I'm always interested to hear new ideas or how you've used unusual pieces to enhance your space. Or please get in touch if you'd like advice on adding antiques or one-off pieces to your space.
Stay tuned – later I'll be sharing with you, my day at the London Art Fair and how I use art and other key interior elements in varying ways for interior design projects.
The London Art Fair Exhibition